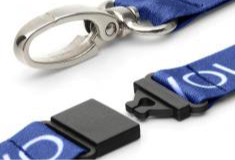 Why you should use our personalised lanyard printing service
Welcome to our website we are one of the UK's biggest suppliers of plain, pre-printed, personalised lanyard and custom logo printed neck straps. We have UK stock ready to send of accessories such as retractable reel clip, clips, plastic badge holders and ID wallets
We have a team of designers ready to help you design the perfect lanyard for your promotional event, school or corporate requirements. We take the stress out of the design process by designing the custom lanyard for you. You have better things to do with your time during working hours than trying to use a website lanyard creator. All you need to do is provide us with basic information such as colours and a logo and we will take care of the rest. We will always get you to agree on the proof before we start production. 
The reason we are one of the biggest suppliers of lanyards in the UK is that we offer low-cost lanyards fast. The latest printing method is used in factory production such as a full-colour dye-sublimated process or colour silk-screen process and always at the low cost our regular customers expect from us. Branded logo lanyards are popular because it provides cheap branding for your business and gives a professional impression to the client. It also has security benefits as people are identified easier in a crowd. 
If you are ready to order buy now from our personalised lanyards category and see what offers suits you best. If you still need some help, please check out the handy guide we have made to help you with your decision.